Babi Mild Ultra Mild Organic Moisturizer Oil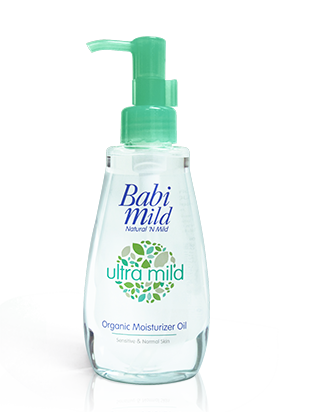 Babi Mild Ultra Mild Organic Moisturizer Oil
Pamper your baby's skin in gentle, natural, weightless and easily absorbed oil. The moisturizer oil features Organic Moisturizer that replenishes and strengthens the skin while the Natural moisturizer keeps the skin moisturized and soft.
Credential

เพราะไม่ใช่ผลิตภัณฑ์อะไรก็ได้ แต่ต้องเป็น "ผลิตภัณฑ์ที่ดีที่สุด" เบบี้มายด์ จึง ใช้เวลาในการศึกษา และใส่ใจในทุกรายละเอียดอย่างเข้มงวด เพื่อให้ทุกผลิตภัณฑ์ตอบโจทย์ความต้องการของลูกน้อย คลายความกังวลของคุณแม่ และปกป้องทุกคนในครอบครัว รวมไปถึงความเป็นมิตรต่อสิ่งแวดล้อม ซึ่งจะสร้างความเชื่อมั่น และเป็นเหมือนคำสัญญากับคุณแม่ว่า ผลิตภัณฑ์เบบี้มายด์ ดีที่สุดสำหรับทุกคนในครอบครัว ด้วยมาตรฐานการวิจัย การพัฒนาผลิตภัณฑ์ และผ่านการทดสอบต่างๆ
Package Size : 150 ml.
Related Product
... loading images
Blended with Vitamin E, suitable for those who need daily skin nourishment. Deeply moisturizes skin...
Ultra Mild Formula contains extracts from Aloevera and Jojoba Oil which help to increase moisturize...