Babi Mild Basket Gift Set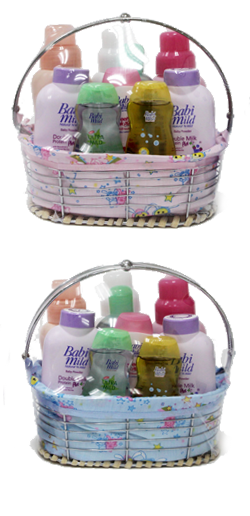 Babi Mild Small Box Gift Set
composes of:
Fabric Wash Baby Touch 150 ml.
Babi Mild Bottle and Nipple Liquid Cleanser 150 ml.
Fabric Softener Pink Floral 150 ml.
Babi Mild Double Milk Protein Plus Lotion 50 ml.
Babi Mild Ultra Mild Powder 50 gram 2 pieces
Babi Mild Bath Gel Ultra Mild Formula 125 ml.
Babi Mild Baby Shampoo Gentle and without Tear 50 ml.
Babi Mild Ultra Mild Oil 50 ml.
Credential
เพราะไม่ใช่ผลิตภัณฑ์อะไรก็ได้ แต่ต้องเป็น "ผลิตภัณฑ์ที่ดีที่สุด" เบบี้มายด์ จึง ใช้เวลาในการศึกษา และใส่ใจในทุกรายละเอียดอย่างเข้มงวด เพื่อให้ทุกผลิตภัณฑ์ตอบโจทย์ความต้องการของลูกน้อย คลายความกังวลของคุณแม่ และปกป้องทุกคนในครอบครัว รวมไปถึงความเป็นมิตรต่อสิ่งแวดล้อม ซึ่งจะสร้างความเชื่อมั่น และเป็นเหมือนคำสัญญากับคุณแม่ว่า ผลิตภัณฑ์เบบี้มายด์ ดีที่สุดสำหรับทุกคนในครอบครัว ด้วยมาตรฐานการวิจัย การพัฒนาผลิตภัณฑ์ และผ่านการทดสอบต่างๆ
Package Size : Small Basket

Related Product
... loading images
Not only your baby needs special care from nature, but also our surrounded environment does. Babi M...
Babi Mild Big Basket Gift Set: Milk Bottle cleanser, Fabric Wash, Fabric Softener, Baby Powder, Bab...