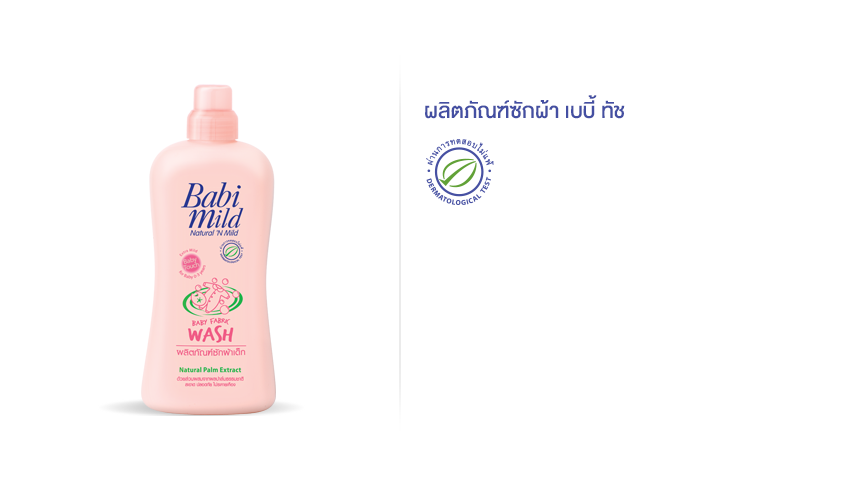 Fabric Wash Baby Touch Formula
Children's clothes must be carefully taken care of, as baby's skin is so delicate. So, detergent should not be used with children's clothes. Instead, Babi Mild fabric wash should be chosen because it can get rid of dirty stains from clothes, resulting in clean and free of bad odor clothes. This is not allergic to children because the product contains extracts from natural palm. The product passed the Dermatological test, causing no irritation to skin, with number one sale volume.
Credential
เพราะไม่ใช่ผลิตภัณฑ์อะไรก็ได้ แต่ต้องเป็น "ผลิตภัณฑ์ที่ดีที่สุด" เบบี้มายด์ จึง ใช้เวลาในการศึกษา และใส่ใจในทุกรายละเอียดอย่างเข้มงวด เพื่อให้ทุกผลิตภัณฑ์ตอบโจทย์ความต้องการของลูกน้อย คลายความกังวลของคุณแม่ และปกป้องทุกคนในครอบครัว รวมไปถึงความเป็นมิตรต่อสิ่งแวดล้อม ซึ่งจะสร้างความเชื่อมั่น และเป็นเหมือนคำสัญญากับคุณแม่ว่า ผลิตภัณฑ์เบบี้มายด์ ดีที่สุดสำหรับทุกคนในครอบครัว ด้วยมาตรฐานการวิจัย การพัฒนาผลิตภัณฑ์ และผ่านการทดสอบต่างๆ
Package Size : Bottle 300 ml., 900 ml., 3,000 ml., Bag (Refill) 400 ml., 600 ml.